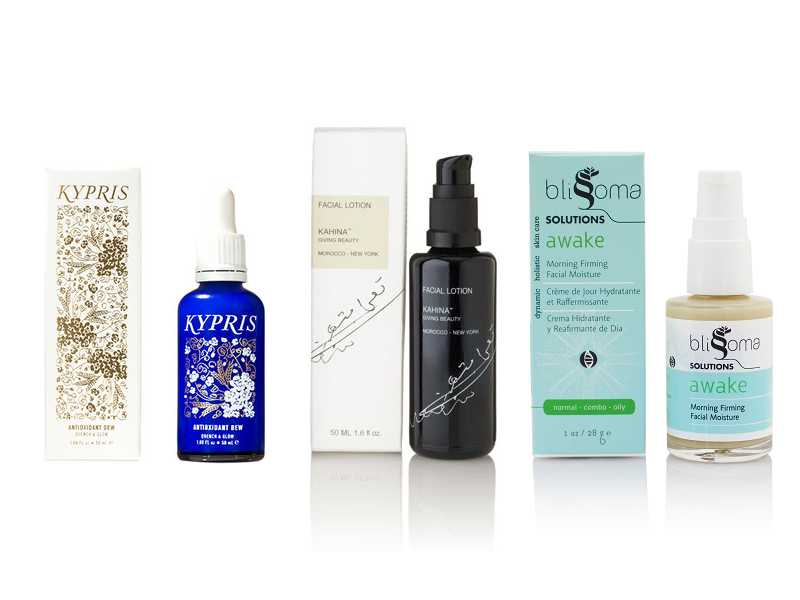 It's officially summer, which means the humidity is kicking up where I live. On certain days my skin, which is usually parched in the winter, turns into an oil slick without much effort. I rely on lighter weight oils and moisturizers during the summer that allow my skin to breath better. I look for products that keep me mostly matte and a little dewy, not glossy. Finding the perfect formula for summer depends mostly on your skin type and your climate, so keep that in mind while shopping for products.
For a nourishing moisturizer that is light enough for summer but still gets the job done, check out one of the following products…
Blissoma Awake Morning Firming Facial Moisturizer. I love this cooling light weight formula which boasts 21 active ingredients. The tea-like aroma is calming. Lightweight essential fatty acids like organic red raspberry seed oil offer moisture without been too occlusive. Brightening and tonic herbs and antioxidants firm, depuff and contribute to collagen synthesis. In addition to all this goodness, it's the perfect weight for smooth, mattified summer skin.
Kahina Facial Lotion. For those with skin that's normal to a little more dry or mature, the Kahina Facial Lotion is a beautiful option for summer. Organic argan oil, shea butter, sodium hyaluronate and organic beeswax provide a supple hydrated look without feeling heavy or overdone. It makes a great canvas for make up application, too. As a testament to its range, this is a lotion I recommend during the winter for people with normal to oily skin. It's versatile with seasons and skin types and noticeably softens skin.
KYPRIS Antioxidant Dew. This is the lightest moisturizer on my list, but it is a hydration powerhouse thanks to algae extract, oat beta glucan, squalane and sodium hyaluronate. These moisture-retaining, humectant ingredients help to plump skin. It feels weightless on skin, yet it delivers potent antioxidants including rose and other botanical extracts to soothe, tone and protect. This featherweight moisturizer will be plenty during the summer for normal to oily skin types, and it makes a great base layer for others.
Surprisingly (or not for those of you familiar), botanical oils can be wonderful lightweight moisturizers on their own during the summer. The key is to choose one that absorbs readily with a more matte finish, and to use very sparingly—1-3 drops max for the face! Kahina Organic Argan Oil and La Bella Figura Barbary Fig Seed Oil are wonderful choices here, as is Aster + Bay Purify Facial Serum with Watermelon Seed + Myrtle. The right facial oil will balance skin's sebum production, which keeps you from over producing oil and helps maintain a healthy barrier from the elements and bacteria. Dry and mature skin types can layer any of these oils over the lightweight moisturizers for extra hydration.