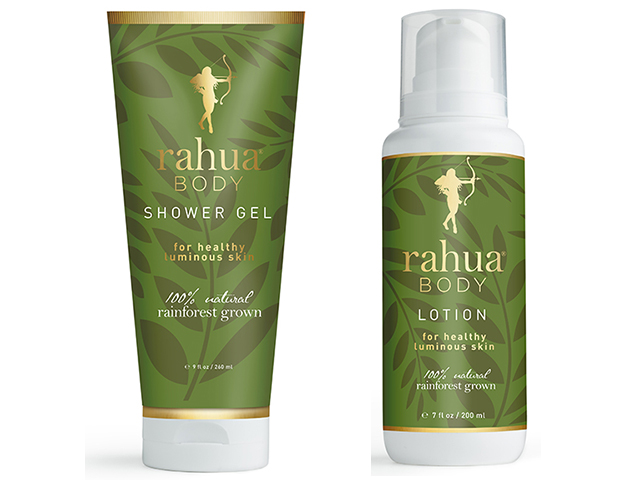 Rahua's Voluminous Shampoo and Conditioner have long been one of my all time favorite duos, so I was excited to try the body lotion and shower gel that were recently released. I haven't used a traditional shower gel or body lotion in a long time. For the past few years, I've been using bar soap or Dr. Bronner's liquid castile soap in the shower followed by body oil. I adore using body oils straight out of the shower, so I was curious as to whether I'd enjoy applying a body lotion instead.
The scent of the Rahua Shower Gel and Rahua Body Lotion instantly hooked me. The predominant note is Palo Santo, which is an oil distilled from the Palo Santo tree. This winter I've been burning Palo Santo sticks sourced from fallen branches or dead trees. It emits a fragrant, sweet woodsy smoke that purifies the air, uplifts your spirits, and makes your home feel cozy and calm. I'm obsessed with the scent of Palo Santo, and the Rahua Shower Gel and Body Lotion feature this sacred scent in a light, gorgeous way. The Shower Gel layers Palo Santo with lavender and eucalyptus while the Body Lotion layers it with vanilla and eucalyptus. It feels luxurious to use a shower gel with such a complex scent, and I've even drizzled it into the bath in lieu of bath oil or salts.
The Rahua Body Lotion is lightweight, soothing, and it absorbs quickly, so it's great for applying when you're in a rush to get dressed or applying to your hands without worrying you will need to wait forever before touching anything. Something I've come to realize after falling madly in love with body and face oils is that I still need a water-based moisturizer to keep my skin fully hydrated. The Rahua Body Lotion works well on it's own or layered under oil, which locks in the moisture from the Body Lotion and results in perfectly hydrated skin. Some days I skip the shower all together, and I love being able to apply the Rahua Body Lotion on those days, usually after dry brushing. On non-shower days, I don't use body oil since I find it works best applied to damp skin, so having a good body lotion on hand is a must.
Both the Rahua Shower Gel and Body Lotion are packed with skin-loving oils, antioxidants, and healing botanical extracts. The Shower Gel gently cleanses without stripping skin, and the Body Lotion protects and enhances. While the scent alone is enough to keep me coming back for more, I love how this duo performs. Oh and they come in perfect travel sizes, too! Natural skincare just keeps getting better and better, don't you think?
Get a free travel size Rahua body lotion and shower gel (total value of $23) with any Rahua purchase of $50 or more with code: RAHUA