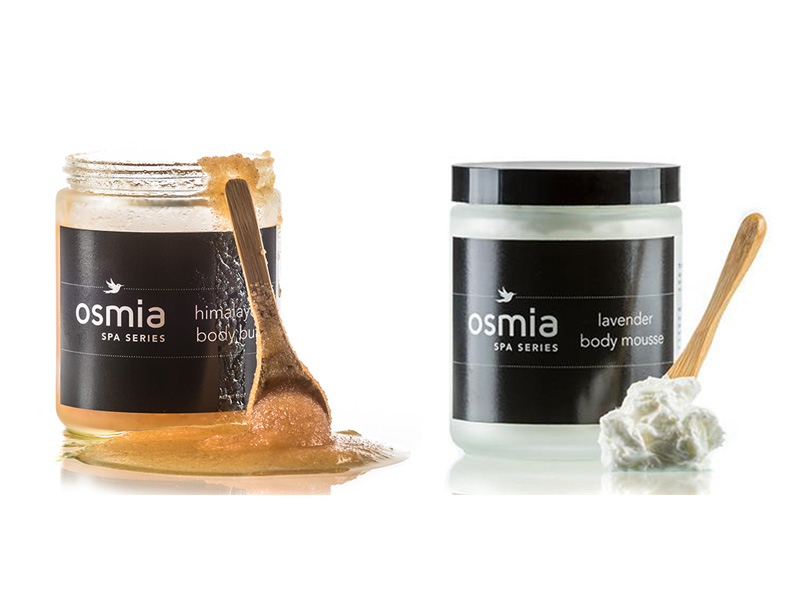 Osmia seems to have a never-ending collection of divine skin treats to discover. Just when I think I'm in on the best they have, I run across another product that I can't be without. With the transition to fall just beginning to happen, our temperatures are fluctuating and my skin is taking notice. I've gone back to a practice I love to help deal— a few times a week I replace my normal body cleansing routine in the shower with a vigorous body scrub. It cleanses and sloughs off dead skin while invigorating and moisturizing all at once. I normally use a very simple DIY body scrub in the shower, saving my most precious scrubs that are handmade by other brands for those true at-home spa moments. In a dash to get through my morning routine and out the door recently, I took the Osmia Himalayan Body Buff into the shower rather than taking the time to whip up more of my DIY scrub, and I may never look back.
The Himalayan Body Buff is a luxurious as it gets when it comes to scrubs. This is largely due to the fact that it's formulated with the Osmia Body Oil at its base, including organic oils of jojoba, hemp, borage, rosehip, sea buckthorn berry and evening primose to deeply nourish skin. The jar contains a generous amount of oil, so you'll need to give the scrub a good stir with the wooden spoon that's included. A few scoops of this goodness will scrub every inch of your body clean, leaving your skin beyond smooth. The pink Himalayan salt is the perfect size and texture for a scrub—trust me, I've tried so many different salts and sugars in my own creations. As you rinse away the scrub, you'll notice that the beautiful oil stays on your skin and leaves you perfectly moisturized right out of the shower. Just pat dry so you don't rub off your body oil. It will sink right in just like their beautiful body oils. The scent, no surprise, is fresh, awakening and purifying thanks to the organic essential oils of Bulgarian lavender and Canadian fir. This is definitely going on my list of gifts to give this Christmas.
Osmia's Rosemary Body Mousse and Sandalwood Body Mousse have a new sister— the Lavender Body Mousse. I'm a big fan of this formula because it contains a lot of skin conditioning shea butter, but the texture stays light and whipped, never hardening like some shea-based moisturizers do. This helps it spread like soft butter on the skin, and it conditions and heals like whoa. You probably won't need it right after using the Himalayan Body Buff, but take a jar to bed with you and massage on your tired limbs for an extra relaxing and skin-revitalizing treat—hands and feet especially. The lavender scent is sweeter and less sharp than many lavenders, so it's ultra relaxing. Plus, the lavender will give relief to sore muscles and joints. Gotta love something that smells beautiful and heals at the same time.
Have you tried the Osmia Himalayan Body Buff & Lavender Body Mousse? Which Body Mousse do you love?