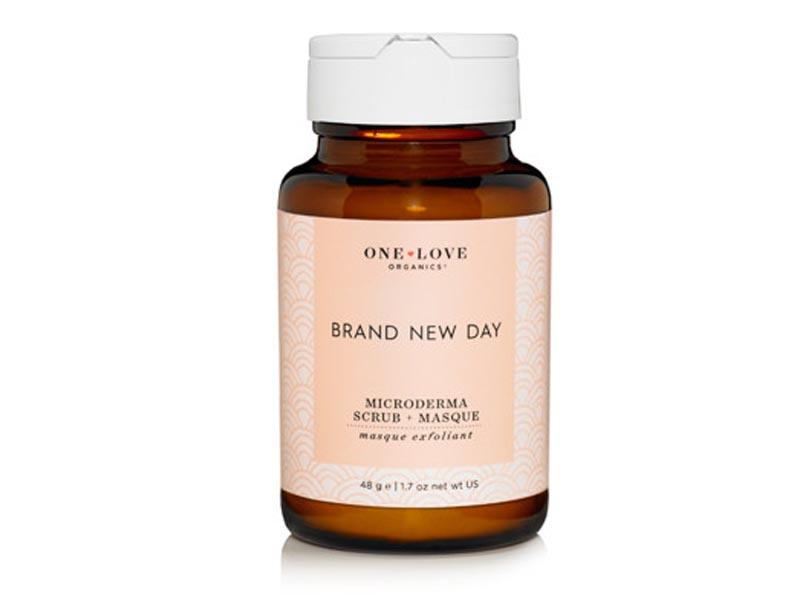 What are the chances you have been struggling to balance out your skin as the season shifts from brutal cold to warmer weather, leaving you with dry flakey patches? Or maybe your skin feels relatively balanced because you know the drill and have some beautiful serums and oils that are doing their job, but you're still looking for the perfect way to gently buff the surface of your skin so your makeup applies smoothly and you're oh so soft to the touch? All this lead-in is to say, the One Love Organics Brand New Day Microderma Scrub and Masque is not playing around when it comes to exfoliation. In fact, it's one of the most effective products I've tried.
The Brand New Day Microderma Scrub and Masque has a simple ingredient list that includes corn starch, pea flour and an amino acid cleansing powder as the physical scrubbing agents. These powders are super fine, which gives the scrub serious polishing power. While exfoliating treatments that use sugar or other scrubbing agents can work well, I find that the small even particle size of a powder like the Brand New Day exfoliates more evenly, so I don't have to scrub as hard or as long to get all the dead skin off. This minimizes redness and is better for delicate skin. Brand New Day's unique powder formula also includes pineapple enzymes, which enhance the exfoliation process and also add a nice dose of bromelain, vitamin C and manganese. Brand New Day also has the soft sweet pineapple scent that has become a One Love Organics signature. It's absolutely lovely.
While you can wear the Brand New Day as a mask before exfoliating, I tend to use it as a quick step in the morning shower to prepare my skin for the day. As a result, my products sink in better and my makeup looks so much more natural when there are no little dry patches for foundation or color to adhere to. Brand New Day exfoliates more thoroughly than anything else I've ever tried, but gentle pressure is the name of the game here. You might be tempted to scrub more vigorously than normal since it's such a smooth and soft powder—don't do it! Brand New Day's fine powder is indeed soft and silky upon application, but it polishes away dead skin cells like none other, so be very gentle to avoid over doing it. It also foams slightly due to the amino acid cleansing powder, however your skin won't feel overly stripped or tight and dry afterward—just silky smooth. When you feel the texture of your skin after your first treatment with the Brand New Day Microderma Scrub and Masque, I think you'll be as hooked as I am.