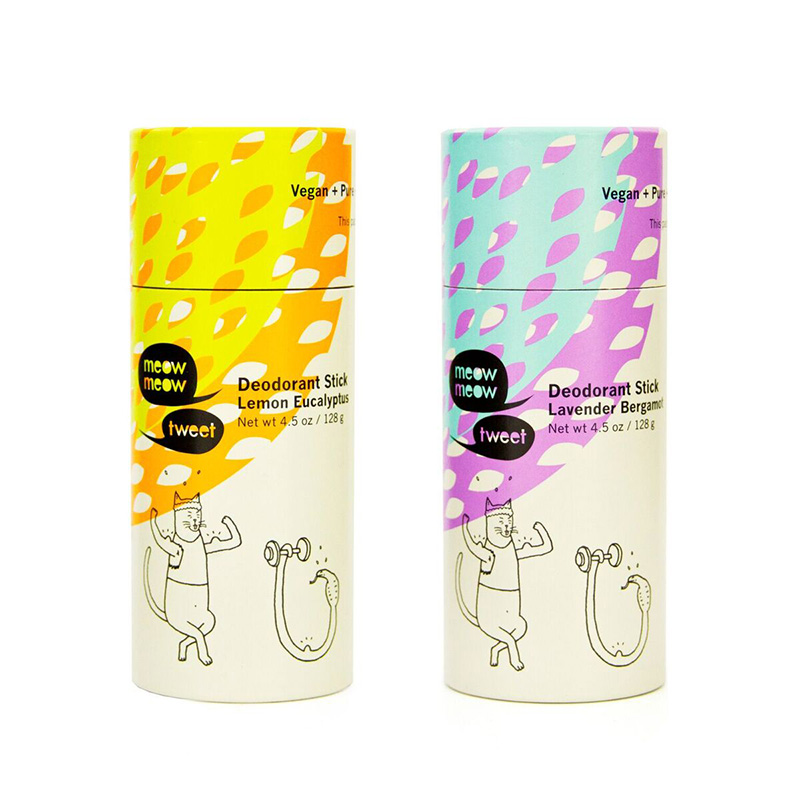 With summer around the corner, natural deodorant is probably on your mind. If not, it should be. Why? Because there's a super exciting new release in the world of nontoxic, natural deodorant today. It's colorful, fun and oh so happy. You're going to love it.
Finally… I'm so pleased to share that the wait is over! Meow Meow Tweet deodorants are available in stick form and they rock this green world and beyond.
Available in two flavors—Lemon Eucalyptus and Lavender Bergamot—the ingredient lists for both are pure and simple, using only botanicals and mineral powders, yet they're highly effective. I've been testing both, and I've remained fresh and dry all day long through muggy, rainy conditions, vigorous romps with my dogs, and air travel—which normally kicks my stress levels (and thus sweat) into high gear. I really, really love and recommend the Meow Meow Tweet stick deodorants. That's right, I'm actually excited to wear deodorant thanks to these bad girls—or boys. It's unclear since they're totally unisex!
Moisturizing botanical butters and oils are combined with arrowroot powder and baking soda to absorb moisture, and the beautiful essential oil blends don't simply mask smell—they keep you from stinking in the first place with their antibacterial and antimicrobial properties.
I love that the Lavender Bergamot Stick Deodorant isn't a total lavender bomb. The bergamot adds balance and intrigue, but even the lavender itself is more sweet and floral than herbal. (Hey MMT, nice choice of lavender!) Personally, I do have a slight preference for the Lemon Eucalyptus. I think it's the touch of clove that spices up the otherwise clean and fresh scent that really does it for me. It's barely noticeable, but I'm a sucker for clove, even in subtle doses.
Even better—the Meow Meow Tweet Stick Deodorants are completely vegan (no beeswax!) and are packaged in adorable push-up containers that are totally biodegradable. It will compost in one year!
Could this day get any better? Yes! Integrity Botanicals is giving away the Meow Meow Tweet Deodorant Stick to 2 lucky winners! Enter below and good luck! May the stinkiest among you win. Kidding.