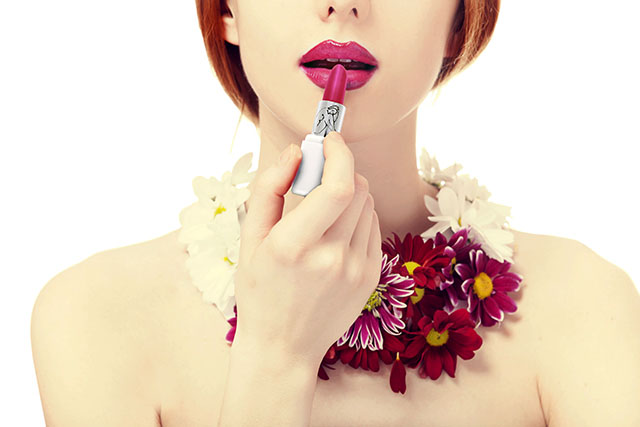 Ladies and gentlemen, there's a new non-toxic lipstick in town all the way from Australia. It's called Nūdus, and it's certified organic handcrafted lipstick that boasts 27 active natural ingredients chosen specifically for their healing and health enhancing benefits. I'm not just talking about the obvious ingredients like cold pressed avocado and argan oils (though happily, those are present). Nūdus has broken the lipstick mold, so to speak, by incorporating herbal extracts like holy basil and turmeric. This is holistic lipstick, which I'm not sure exists anywhere else in the world. Welcome to the beauty revolution, where makeup is not only gorgeous, it's beneficial to your health! I love wearing Nūdus for these reasons and more.
One thing you'll learn when you try Nūdus for the first time is just how beautifully pigmented the colors are. You won't find synthetic dyes or chemical color enhancements here, though. Nūdus colors are derived from flowers, herbs, fruits and minerals in the ayurvedic tradition. They are rich, vibrant and long lasting. As they wear off, they leave a beautiful stain of color on the lips. Some of the deeper shades last for hours and hours, through coffee, snacks, wine — I've put it through the test with great results. Nūdus lipstick has a matte finish, as opposed to a shimmery shiny look, but it's never drying on the lips. Cold pressed oils like pumpkin, raspberry, pomegranate and moringa hydrate and nourish the lips and help ensure a smooth, creamy application.
Let's talk colors. There are ten colors to choose from that range from muted and neutral to as bright as can be. My absolute favorite (of any red I've ever tried) is called Revenge. It is both bright and deep, and it wears on my lips like a true, balanced red. I'm obsessed with this color and love wearing it with low-key makeup so that the attention is really on the lips. 27 Kisses is another favorite that has a slight 90s vibe I can't resist and makes for a great daytime look. It's like that favorite pair of jeans that flatter your figure but still manage to feel so comfortable you just want to wear them everyday. Looking for something colorful but low-key? Fairy Tales is a bright pop of peach that imparts a fresh look. For a serious showstopper, try Survivor, a hot pink that is loud, fun and sophisticated all at once. I cannot get enough of this healthy line of lipsticks. One swipe on the lips and I feel like smiling all day.
Do you have a thing for lipstick, too? What Nūdus colors do you want to try? Nūdus launches later this week at Integrity Botanicals!