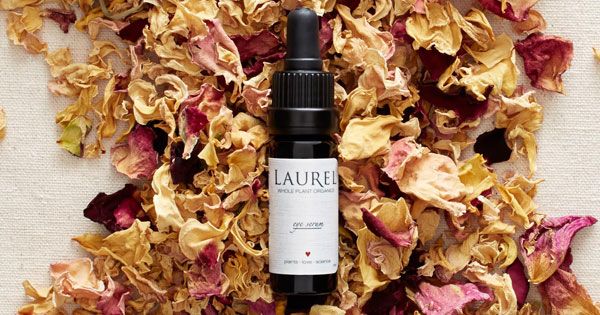 Eye serums are certainly having a moment. I'm seeing more of them pop up from beloved green beauty companies, and the variety of options continues to grow. Let's face it — the things we hope to improve about our under eye area are pretty universal. I don't know a single person who doesn't wish for improvement when it comes to dark circles. Do you? Puffiness and bags from fluid retention can also be a common issue, and it's probably a sure bet that we all want to prolong the onset of fine lines and wrinkles to the extent possible. Can one serum do it all?
Laurel Whole Plant Organics Eye Serum is formulated to address fine lines, puffiness, inflammation and dark circles. You might ask how one serum can address such a range of issues. It's the herbs and botanical oils, of course. Each has specific healing properties that work synergistically to hit all of the major problem areas people experience under the eyes. Let's dig into the bottle.
Eight botanical oils form the base of the Laurel Whole Plant Organics Eye Serum, beginning with jojoba, borage seed and rosehip seed oil. The jojoba provides a lovely delivery mechanism for the more concentrated oils and herbal extracts. Jojoba has a similar composition to human sebum, so it melds seamlessly with skin and has a natural finish. Borage seed oil and rosehip seed oil contain serious anti-aging properties that make them invaluable in the prevention and treatment of fine lines. Borage seed oil is high in essential fatty acids that tame inflammation, while rosehip seed oil is high in vitamin C and works to stimulate collagen production. Additional botanical oils like pomegranate, cranberry and red raspberry provide protection and help restore the delicate skin around the eyes.
Oils of rose, roman chamomile and sandalwood not only give this serum a delicate herbal scent, they help soothe stressed skin. The formula is also supported by a proprietary blend of organic herbs derived from the whole plant, including bilberry, fennel, licorice, nettle, chamomile and rosehips. These herbs are not only rich in minerals and vitamins, they specifically work to brighten dark circles, strengthen capillaries and reduce puffiness.
Laurel Whole Plant Organic's Eye Serum has been a lovely addition to my morning routine. I find that it makes a nice primer for my concealer and keeps that delicate skin from looking too dry or crepey. I have to be careful to apply sparingly when I'm wearing mascara, but it sinks in really well and leaves the skin around my eyes feeling plump and hydrated, which is a big win in my book. I especially enjoy reapplying just a touch later in the day right along my smile lines where my cheeks meet my under eyes. It helps revive my look and gives a slightly dewy appearance while nurturing the skin. One thing I truly appreciate about the Eye Serum is that it is a great value. A single drop is more than enough for both eyes, meaning this serum will last a long time. Based on the amount of drops in a 10ml bottle, I'm going to guess it will last close to 7 months with daily use in my case. For such a concentrated blend of active botanicals and an experience that adds pleasure to the day, it's worth it.