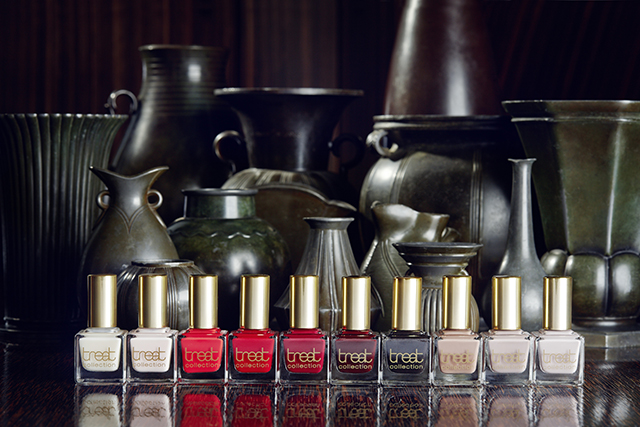 Nail polish has come a long way. No longer do we have to sacrifice performance and great color selection for formulas that are safe. Traditionally, nail polish has contained a host of nasty chemicals like formaldehyde, formaldehyde resin, toluene, dibutyl phthalate, camphor and more. What's the problem with these chemicals? You probably recognize formaldehyde as an embalming solution. It's also a carcinogen that has been linked to cancer, as is dibutyl phthalate. Toluene can cause birth defects and developmental problems in children of pregnant women who have had extended exposure, and camphor is a poison that suffocates nails and deprives them of nutrients, leading to yellow stains on nail beds. It's all pretty gross, but the veil has been lifted regarding the dangers lurking in nail polish, and thankfully with consumer awareness comes much needed change. It's becoming more common for nail polish brands to be 5-free, meaning they are formulated without the chemicals listed above.
Based in Berlin, the Treat collection is 5 free, and they offer 54 colors to choose from. Talk about an amazing range!
I've tried five different colors and loved them all for their unique and glamorous effect. Date Night is absolutely stunning at this time of year. It's a deep wine colored hue infused with golden shimmer that gives it a little edge — super eye catching and sophisticated. Velvet & Sequins is another favorite for it's unusual and vivid violet color. This one always gets compliments when I wear it. Cocktail Hour is a low-key neutral taupe that manages to still feel festive and flirty thanks to the addition of golden shimmer. Paris, Paris is a classic glossy shade of red that is oh so feminine. Finally, for something totally different, try Shimmery Stars, a deep midnight blue infused with a soft silver shimmer that lends a romantic edge to this wintery hue.
All of the colors are long lasting, and with the exception of Cocktail Hour, I've only needed two coats to get a glossy opaque finish. The performance of the polish is enhanced by the Treat Top & Base Coat, and I love finishing the job with the Treat Fast Drying Top Coat. You may already have these basics in your nail kit, but I think there's something to working with one brand for each application. The Treat colors were designed to work with the Treat basics, like the base and top coats, and together they result in a gorgeous manicure. The colors I've tried are more fall/winter appropriate, and I can't wait to try some of the brighter shades that really pop. I have my eye on Goddess, Poppies and Peonies, Outdoors and Summertime.
Nail polish is such a great accessory, don't you think?