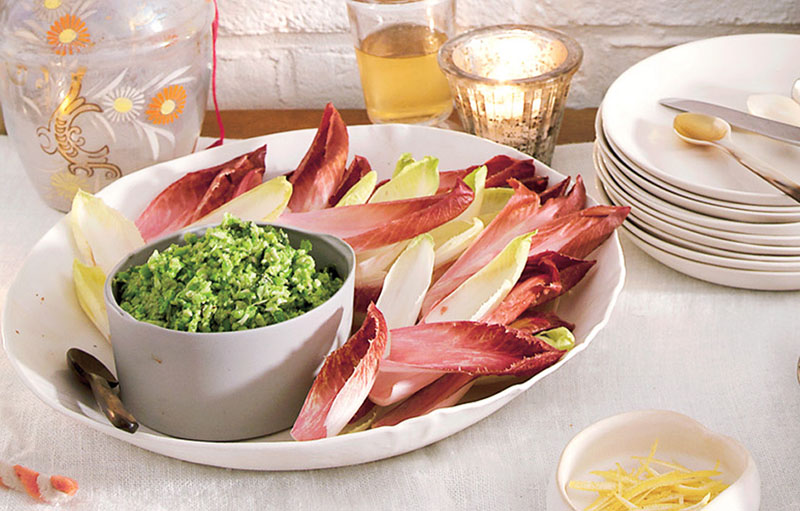 Whether you're into football or not, the Super Bowl has become an iconic, honorary American holiday of sorts. Friends and families gather and cheer on their favorite team, or just show up for the good company, insane commercials, the half-time show and all the snack foods we can muster. I love these game-day foods as much as anyone, but I especially like to sneak in foods that are totally healthy but feel a little naughty—or at least satisfying in that comfort food way. My dad used to always make this cheese dip concoction in the crockpot for football viewings—totally delicious, totally unhealthy—but it made me associate big football games with dipping chips into a savory something until I couldn't eat anymore.
Instead of whipping up a batch of my dad's cheese dip, I'm making edamame hummus for Super Bowl Sunday. It's quick, easy, unusual and so delicious! The bright green color is fun, and this dip is perfect paired with veggies, pita chips or even corn tortilla chips. Edamame has lots of protein and is a pretty rich source of dietary fiber, minerals and vitamin K. It even has some essential fatty acids! Here's how to make it…
Edamame Hummus
Ingredients
1 bag frozen shelled edamame, thawed
1/4 c. tahini
2 tbsp. lemon juice
1 garlic clove
2 tbsp. olive oil (add more for a creamier consistency)
salt to taste
Combine edamame, tahini, lemon juice, and garlic in food processor. Process until smooth. Drizzle olive oil through feed tube, continuing to process until oil is fully incorporated. Season with salt to taste and serve.
*photo via Bon Appetite