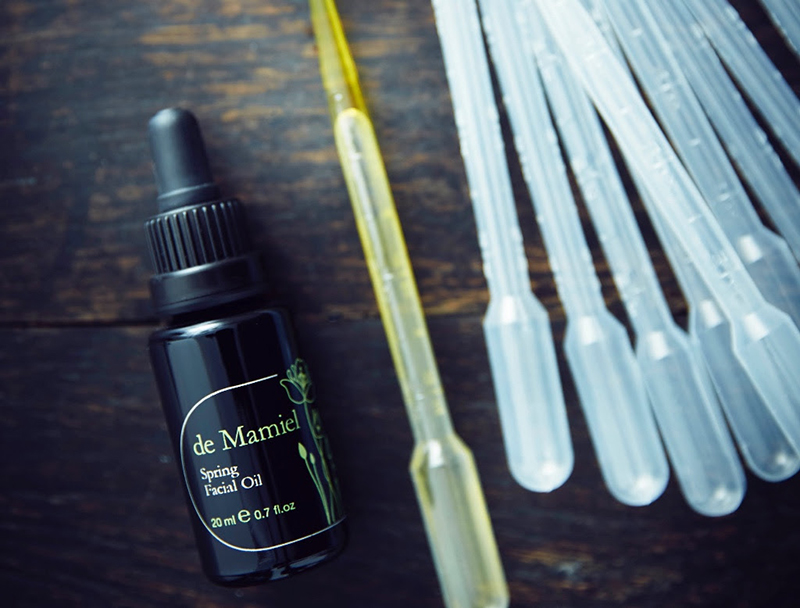 Spring is officially here, and with it comes the exciting limited edition new seasonal face oil from de Mamiel. As I've come to know de Mamiel's products and skincare philosophy over the last year, I'm completely on board with seasonal face oils. It makes sense—we're not going to need the same type of conditioning and protective properties found in our winter routines come April. We know this intuitively as we begin reaching for lighter and brighter products, but I think de Mamiel's seasonal oils are so unique because they are formulated specifically for each new season and are meant to work with our bodies as they make the seasonal transition.
Spring can be a tricky season for all of us as our bodies try to wake up, and the de Mamiel Spring Facial Oil is a welcome new friend that creates balance while revivifying and bringing new energy to our skin cells.
If you're complexion is feeling especially dull after a long winter, the Spring Facial Oil is going to infuse it with all the fatty acids, antioxidants and anti-inflammatories needed to restore a healthy glow. This supportive blend includes essential oils like juniper, geranium and grapefruit to awaken inner and outer radiance, and the gorgeous scent—which smells fresh and a little fruity and herbaceous like lemon balm—is both aromatherapeutic and energizing for the skin. After a winter of surrounding myself with rich, woodsy scents I love this bright fragrance and make sure to do as de Mamiel instructs and cup my hands over my nose and breath deeply for at least three breaths before massaging the blend in.
The base oils include ingredients that were chosen for their ability to balance the skin at outset of spring like jojoba, rosehip and milk thistle. Additional lightweight oils like baobab, sunflower and elderberry seed also boost moisture levels without feeling heavy or oppressive. This is the season for blooming, after all, and we need oils that will work with our skin and allow it to properly flourish while the weather and other elements of our life fluctuate and find their spring groove.
Not sure about you, but I live in an area where the temperature can fluctuate wildly between 70 degrees and temps as low as the 30s—all while confusing the heck out of my poor skin. The Spring Facial Oil manages to feel rich enough to address lingering cold temperatures and brisk spring winds, yet light enough to help transition smoothly into sunnier, warmer days. It's perfect on its own day or night, and it works nicely layered into your routine with other products. Most importantly, it just feels good to wear. If my skin could sigh with pleasure audibly, it would.  If you're feeling like your skin is in limbo, try the new Spring Facial Oil to give your skin the nudge it needs to emerge from winter hibernation with beautiful results.