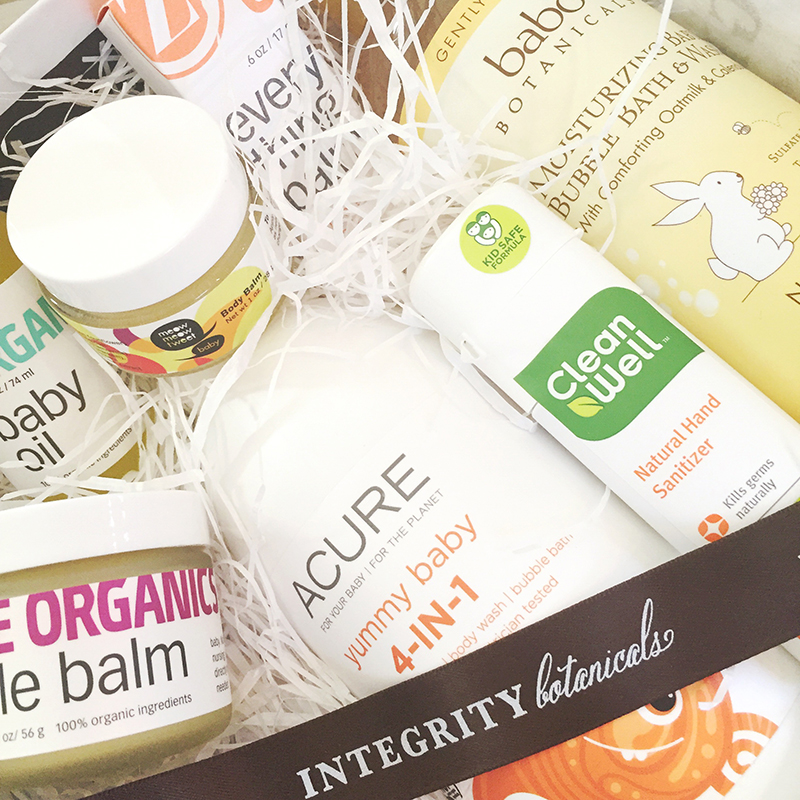 Do you have any baby showers on your calendar this spring? It seems like there are more expecting mothers than usual in my social circle at the moment, and I'm always excited to share clean, non-toxic products with the new moms and babies in my life. Integrity Botanicals has a fantastic selection from Meow Meow Tweet, Babo Botanicals, Zoe Organics and Acure, so be sure to include some of these baby basics alongside that adorable floppy bunny or chic little outfit you can't wait to gift. With their delicate skin and new-to-the-world senses, babies need seriously gentle care. Help mom be prepared with safe and healthy products for their sweet new bundle.
Not sure where to start? Here's a quick guide to the best gifts for babies at Integrity Botanicals…
Zoe Organics — This organic mommy and baby skincare line was created by a woman who is so passionate about bringing safe, simple and luxurious products into the home of every family. A true leader in the green movement, Zoe Organics was one of the first brands of its kind, and exactly what I reached for when my niece was born a few years ago. Best known for their soothing Cream, which is loved by adults as much as young ones, Zoe offers unique products like the Baby Bath Tea and the gentle but effective Breathe Balm for congestion. Zoe takes care of expecting moms, too—so grab their Belly Oil or Belly Butter to help soothe her itchy, growing belly while helping to prevent pregnancy stretch marks.
Babo Botanicals — With a focus on anti-inflammatory ingredients like chamomile and calendula that protect and calm sensitive skin, Babo Botanicals offers a full range of skin, hair and sun care products for newborns, babies and kids (and you, too!). Babo Botanicals products are made on a certified organic farm in upstate New York—how cool is that? Babo Botanicals includes a proprietary blend of chamomile, calendula, kudzu and watercress extracts in their products to enrich and protect little ones' skin and hair. Standouts include a 3 in 1 Lavender Meadowsweet Bubble Bath, Shampoo & Wash (because why not have one product do many things?) and a great selection of sunscreens that include an easy to apply sport stick as well as clear zinc SPF lotions.
Meow Meow Tweet — With their imaginative and whimsical branding plus their always-gentle formulas, it makes complete sense that Meow Meow Tweet would expand their line with a skincare collection for new babes. The line includes all the essentials like a Baby Bath Wash with a rich creamy lather. The Baby Body Oil will not only help protect and nourish skin, its calming chamomile scent is a bonus for mom, too. The Baby Body Balm is an excellent do-everything product that can be used as a diaper cream or a belly balm for mom, too. What new baby gift would be complete without a classic Baby Body Powder? A fantastic alternative to the unnatural options on the market, this Baby Body Powder is talc free and made with organic arrowroot powder and kaolin clay to absorb moisture and soothe irritated, itchy skin. Perfect for chafed skin and little baby bums, Meow Meow Tweet suggests many creative ways to use this powder aside from the obvious. For example, add it to baby's bath water with a tablespoon of ground oats for a soothing soapless wash. You could even provide the oats and how-to instructions as part of the gift!