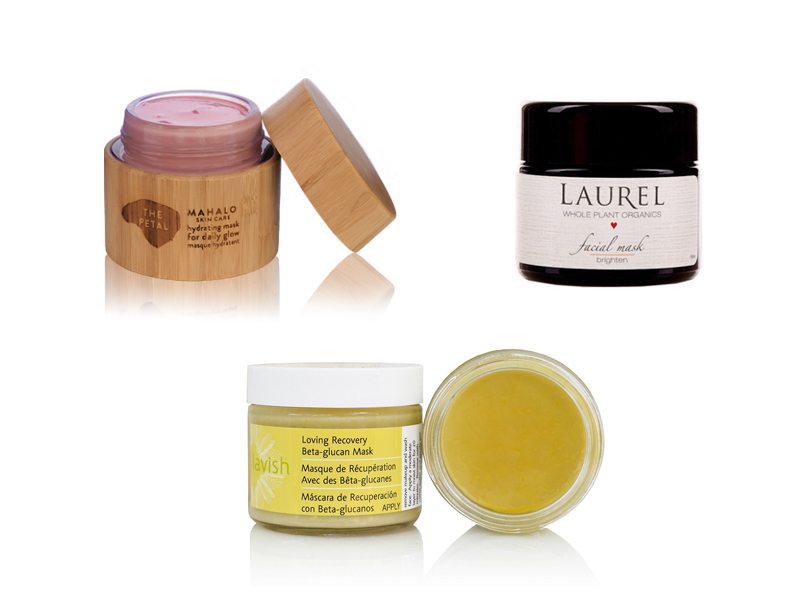 When your sun kissed glow begins to fade, what do you see first? If it's signs of hyperpigmentation or a blotchy dull appearance, it's time to add a healing mask to your regimen. A few of my favorite masks contain active botanical ingredients that were chosen for their ability to brighten, fade signs of sun damage, even out skin tone and restore skin's luster and moisture levels. These targeted treatments can be used at the end of the summer to help repair signs of stress and inflammation due to sun exposure, and they'll help keep your skin more youthful, too. Plus, a little self care goes a long way, and a face mask is classic self care in my book.
Here are 3 masks for sun damaged skin that I reach for to heal, soothe and more…
Laurel Brighten Facial Mask – Imagine a blend of brightly colored, vitamin C rich botanical powders ready to be transformed into a potent mask when activated with water or another medium of your choice, like yogurt. I love to mix mine with kefir for the additional boost of probiotics and softening acids. The Laurel Brighten Facial Mask offers high amounts of whole plant vitamins A, C and E from ingredients like Camu Camu, Rosehip Fruit and Acerola Berry. These work to brighten, repair damage and support collagen production. It's a powerful fruit cocktail for the face that will help fade sun damage and discoloration over time.
Blissoma Lavish Loving Recovery Beta-Glucan Mask – For the sunburned, chapped and weather-beaten skin, the Lavish Loving Recovery Beta-Glucan Mask will calm and restore the skin to healthy moisture levels. The mask packs serious anti-inflammatory power with its base of organic oatmilk, reishi and maitake mushrooms. Liquid herb extracts like organic St. John's Wort, astragalus and passionflower add additional calming and healing benefits. I adore how comforting this mask feels on my skin, and afterwards my face is less red and oh so soft.
Mahalo The Petal Mask – For a complete skin recharge, The Petal Mask is a luxurious option. Dull skin is no match for this gentle beta-hydroxy treatment, which smooths away dead skin and brightens hyperpigmentation. I love to use The Petal Mask in the morning before showering. It's gentle enough for daily use and is wonderfully restorative. While it clears skin, it also tones with Amazonian white clay and replenishes with oil balancing essential oils and a raw honey and rose blend. Skin is left feeling luscious, clean and plumped.
 What's in your sun-damage repair kit? Have you tried any of these masks?