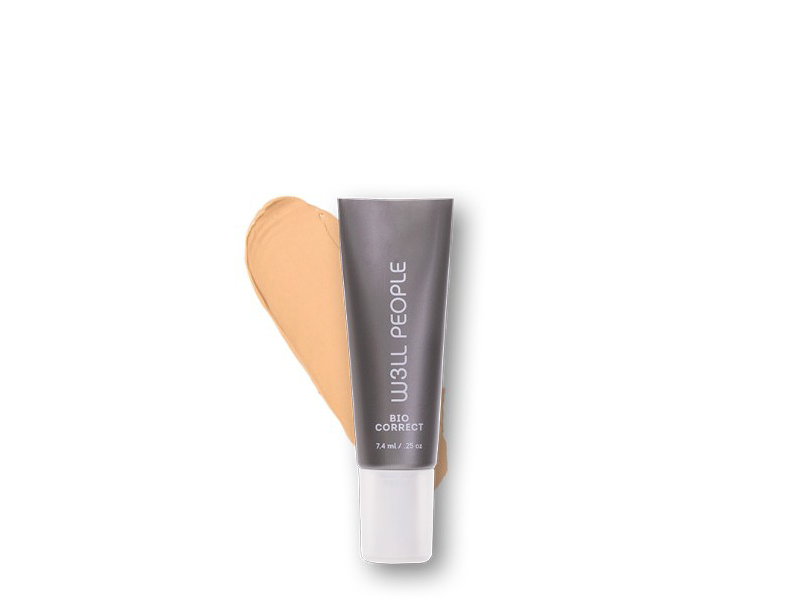 Leave it to W3LL PEOPLE to break the mold when it comes to all natural, nontoxic concealer. One thing is certain—W3LL PEOPLE understands how makeup should perform for everyday wear, and they totally nail it with this new concealer. If you've ever heard these dreaded, well-meaning but slightly insulting words from someone, "You look tired," you're not alone. The good news is that you can kiss those comments goodbye, even if you are feeling exhausted.
The Bio Correct Multi-Action Concealer is so well designed you'd be hard pressed to find a beauty editor or working mom who wouldn't name this a godsend for didn't-get-enough-rest syndrome after trying it.
Adding Bio Correct Multi-Action Concealer to my routine has made a huge difference by brightening the area right under my eyes and the red spots around  my nose and chin, making me look more rested than I may be. I also love wearing it on my eyelids to even them out and brighten. I often wear this concealer instead of eye shadow, and it makes a fine primer when I do want color.  True, many concealers out there will cover and mask imperfections, but the Bio Correct Multi-Action Concealer has this soft-focus effect that is addictive.
The W3LL PEOPLE Bio Correct Multi-Action Concealer has a light consistency that's very creamy upon contact with the skin, but the application is easy to control. As you pat it in—and patting rather than rubbing/smearing is definitely the way to apply here—the finish becomes more powdery and soft-focus. Bio Correct diffuses light without being reflective or shimmery, which makes you look clear-eyed and fresh-faced, even when there are trouble areas at play (like the aforementioned redness or dark circles). Any creasing is minimal, especially compared to other concealers I've tried.
If you're a jump out of bed and go kinda person, this is one of those products you can apply alone and dash out the door while still feeling put together. Sometimes a little concealer and maybe some mascara are all I need to feel my best. When I do wear more makeup,  I love to dab this on over foundation as a finishing step, sort of like you would apply a highlighter. I've also used this with a light hand as all-over coverage in lieu of foundation, and it looked gorgeous. I'm using fair but will likely need the light shade once summer gets going.
If you're still looking for your holy grail concealer or just want to shake things up, give the new W3LL PEOPLE Bio Correct Multi-Action Concealer a try. I think you'll love it.