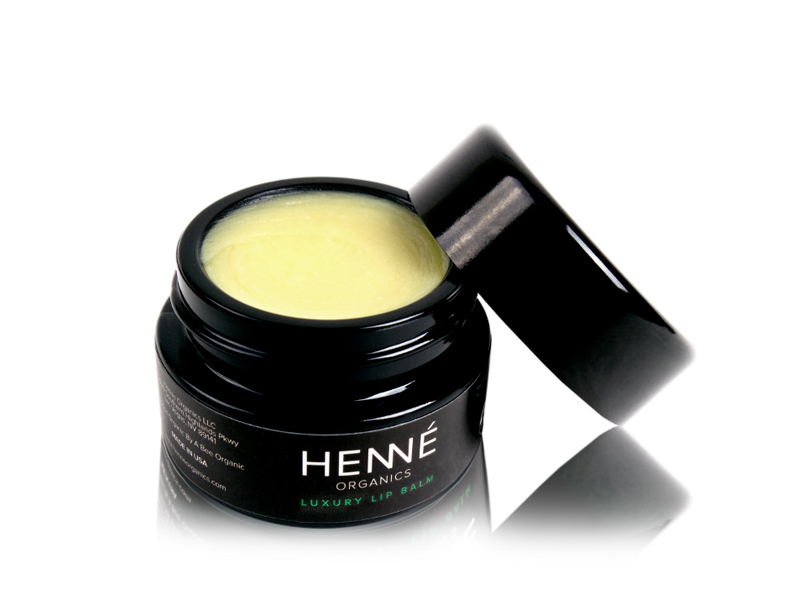 I love a product that takes you by surprise and unexpectedly becomes something you just can't be without. When the new Henné Organics Luxury Lip Balm was first brought to my attention, it didn't jump out at me as a must-try product. Don't get me wrong—the Henné balm looks beautiful with its minimalist branding and gorgeous black glass jar (I love how these feel like a weighty gem in the palm of your hand). It also has all the right ingredients—pure, wholesome and reparative botanical oils and butters. Yet, I felt my lips were getting all the love they needed from what's already in my collection. With so many brilliant lip balms available now, I wondered how distinctive Henné Organics Luxury Lip Balm could be.
Trust me, the Henné Organics Luxury Lip Balm is worth your time and investment. Once I finally cracked the seal on this balm, I fell in love with this lip treatment within the first day of use.
If I had to describe the Henné Organics Luxurious Lip Balm in just a few words—sumptuous, comforting and fatty come to mind. With just seven pure ingredients, many of which are commonly found in lip balms, I expected a certain consistency and experience from Henné, but I was pleasantly surprised by its unique properties and texture. Most of my lip balms with similar ingredients are more on the semi-hard and waxy side, whereas the Henné Lip Balm is buttery and pliable. It feels amazing on lips and really softens and protects. I find myself reaching for it whenever I need moisture, whether that's before a lipstick application, when I'm heading to bed or out running errands in the cold. Henné is long lasting on the lips, and its buttery texture makes it perfect for touching up dry spots on hands or elsewhere while you're at it.
The Henné Organics Luxury Lip Balm is totally naked and free of essential oils, which is better for sensitive lips or moments when your taste buds and sense of smell shouldn't be affected by your lip balm. Has the rosey or minty taste of your lip balm ever clashed with what you're having for dinner? Yeah, me too. It's really nice to have a lip formula without any scent or flavor. Be sure to give this a try. I think you'll agree that Henné has all the elements of a truly luxurious lip treatment.
Now through this Sunday, 2/28 receive a free Henné Organics Luxurious Lip Balm ($22 value) with any purchase at Integrity Botanicals of $100 or more. Upon checkout enter code: HENNEBALM