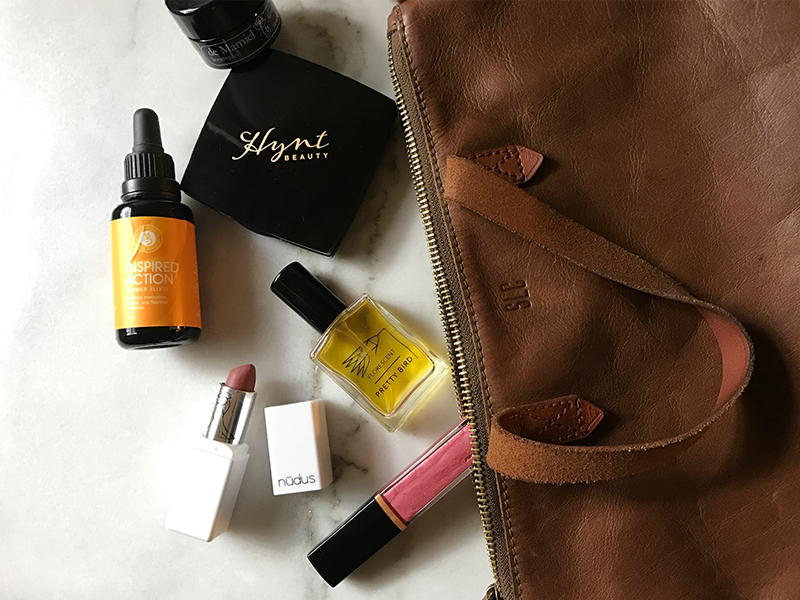 It's officially late October and the leaves are falling all around. While the temperature has yet to dip into truly cool territory, my beauty accessories are in full fall mode. As much as I love to play with color and scent, there are a few items that I've been toting around in my handbag this fall, and these will probably remain in that privileged place until the next seasonal shift.
Let's peek into my handbag and see what's getting the most love this fall…
Hynt Beauty just launched at Integrity Botanicals last week, and this clean and mostly vegan (the mascara is the only item that isn't) line has secured a spot in my handbag for its performance and convenience factor. First up—the Encore Fine Pressed Powder. It has been years since I ran around with a pressed powder in my handbag, mostly because I hadn't found a clean version I really loved. It's so nice to have a compact in my handbag that will refresh my look instantly without looking caked on or drying out my skin.
If I'm being honest, most of the beauty items I tote around fall into two categories—lips and scent. It's not unusual to open my handbag and find seven different lip products and a handful of perfumes and aromatherapy treatments (I always have peppermint oil in my bag for headaches and more). These are the things I collect and feel most drawn to.
Since I am pretty minimal with makeup, lip color tends to be my focal point. For fall, I've rekindled my love affair with nudus 27 Kisses, a creamy mid-tone mauve that is simultaneously unique and familiar (a little 90s throwback if you ask me). This color has depth. For me, it's a great neutral alternative to something in the nude category, and it fits in well in any environment—at the office during the day or out for the evening.
Joining this lipstick is another recent Hynt Beauty discovery—the Libre Lipgloss in Une Femme Mauve. This is the color collaboration that Ashley of The Green Bunny created with Hynt and I'm obsessed! On bare lips its color is soft and diffuse. Layered on top of nudus 27 Kisses, it's absolutely brilliant. It's also conditioning and never sticky. Finally, with fall here I felt the need to whip out one of my more intensely conditioning lip treatments—de Mamiel's Rosey Lip Balm. I couldn't be more in love with this formula and its fragrant rose finish. It's a must have if your lips get dry or need serious conditioning.
Since it's fall, and we all know that the holiday madness is just around the corner, I'm preparing myself to be as proactive and productive as possible with the Lotus Wei Inspired Action Flower Elixir. The flower essences in this elixir work along your meridian lines, sort of like acupuncture, to bring your body back in tune. Inspired Action promises to dissolve procrastination, lack of follow through, feeling stuck, indecision, projects left undone, and the distracted mind. I love the ritual of taking a flower elixir throughout the day, and I find it makes a true difference.
Okay, okay—I confess that Pretty Bird is always in my handbag all year round, but fall is an especially perfect time for this botanical perfume. The bergamot and rose notes elevate my mood while the sandalwood and clove bud absolute bring a soft and cozy woody spice element to the experience that I find warming and irresistible.
What's missing from my fall handbag? A good hand cream! I plan to re-order the Osmia Vanilla Shea Hand Cream or maybe try something new to me, like the Bottega Organica Comfort Hand Balm, which looks amazing. I'm already a big fan of the uber rich Hand Regenerate Cream.
There you have it—the contents of my fall handbag. What are you toting around this fall?