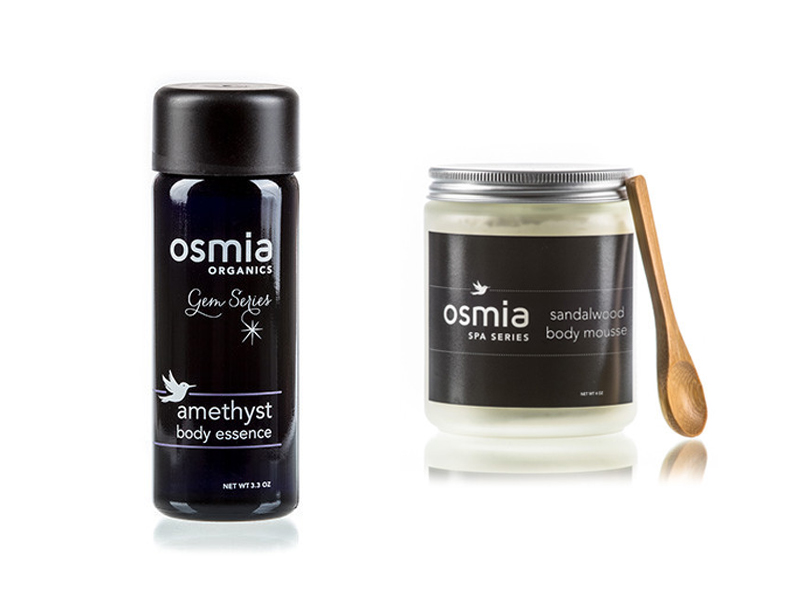 There's no end to my love for the heavenly scented products from Osmia Organics, so it's probably no surprise that I'm completely enamored with the newest additions to the Gem Series and Spa Series—the Osmia Organics Amethyst Body Essence and Sandalwood Body Mousse.
Both are perfect for this time of year, especially where scent is concerned. As you may remember, I loved the first releases from Osmia's Spa and Gem Series, but these new releases feel more seasonally appropriate with their warming properties.
The body oils in the Gem Series share a common blend of oils, so the real difference between the Amethyst Body Essence and the Emerald Body Essence is the therapeutic scent. Amethyst is perfect for this chilly time of year with it's warm and spicy scent. The top notes include fresh ginger and cardamom, but you'll pick up an undercurrent of rich and grassy vetiver pretty quickly, which really anchors the blend. Rose otto is present, too but this is not a "rosey" scent. It's actually pretty masculine in a really great way. The Amethyst Body Essence features vitamin A and E rich organic sunflower and avocado oils, which are full of nutrients and are known for their ability to absorb deeply so your skin can really benefit from their healing properties. Camellia oil (made from tea leaves) and borage seed oil provide anti-inflammatory benefits and antioxidants galore, meaning your skin has a better chance to repair and protect itself from environmental damage. Shea and argan oils add more vitamin E and skin conditioning properties to the blend. Like the Emerald Essence, the Amethyst Body Essence has a velvety, lux finish that makes your skin feel soft and supple.
The Sandalwood Body Mousse is getting a lot of "skin time" from me, too. My personal opinion about sandalwood is that it is one of the sexiest scents ever invented by nature—sweet, warm, rich and woody. I simply can't get enough of it! It's also a scent that works equally well for men and women. Shea butter, babassu and jojoba oils make up the base of this Mousse, which is light and fluffy and spreads like a dream. As I've mentioned before, most shea butter whips I've tried either turn rock-hard and become impossible to spread or never ever sink in properly and leave me too greasy. The Body Mousse melts into skin and sinks in nicely, especially when applied to damp skin. It's proving to have has serious healing power this winter, too. I find myself reaching for it to rub on my hands, legs and feet before bed, and I love the soft skin I wake up to in the morning.
Feeling extra dry this winter? Layer the Amethyst Body Essence and the Sandalwood Body Mousse for an indulgent and healing combination that will heal and protect in any climate.