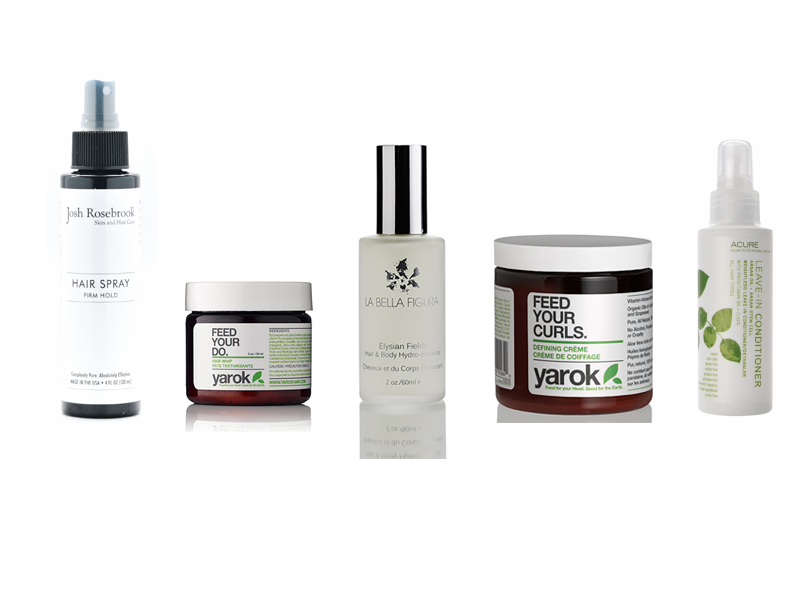 Do you get the summer frizzies? Does your hair act like an untamed animal when the humidity kicks in? I live in an area of the country where the humidity is thick, even swampy at times. In addition, it has been one of the rainiest summers we've had in a while. I frequently wake up to condensation all over my windows because the air is so wet. So yeah, even my fine straight hair suffers in this humidity. What's a person to do when the weather conditions are conspiring against you, leaving you with flat and frizzy hair? Fight back with a few green products, of course!
First, there are a few things you can do to decrease the likely hood of frizz. It all starts as soon as you step out of the shower. If you have just washed your hair, ditch the traditional plush bath towel and wrap your wet hair in a thin microfiber towel or a cotton t-shirt. These absorb water better than a regular towel and they don't disrupt the hair follicles as much, so your hair is more likely to lay smooth. Second, be sure to comb through wet hair with a wide-tooth comb, never a brush, which can split and break wet hair easily, exacerbating fly-aways. If you often skip conditioner or if you have hair that tangles, try spritzing your hair with Acure Leave-In Conditioner before you comb. This is my go-to spray for detangling. It makes hair more manageable and strong, protects from heat styling, and decreases frizz. If you are showering but not washing your hair, be sure to wrap your dry hair in a towel or shower cap to avoid additional frizz from the humidity in the bathroom.
There are a few styling products that tame frizz really well. It all depends on your hair type and what you're trying to accomplish with your style. For example, if I'm wearing my hair in a bun or an up-do of any kind, a few spritzes of Yarok Feed Your Hold Hair Spray or Josh Rosebrook Hair Spray will keep fly-aways that would frizz up otherwise in control. These fine mist hair sprays are lovely because they don't give you helmet head. Hair looks natural but stays put. If you have curls, your biggest anti-frizz ally is the Yarok Feed Your Curls Defining Cream. My curly friends swear by this product. It's an aloe-based product so it doesn't weigh down curls, just defines and de-frizzes. If your hair is on the thicker, drier side you can use a styling cream like the Yarok Feed Your Do Styling Whip or the Josh Rosebrook Styling Cream to fight frizz. Just rub a small dab of one of these conditioning styling creams between your fingers and smooth over hair where it gets the most frizzy. A little goes a long way, and you can use these instead of hair spray for up-dos if you prefer. Finally, when my hair is feeling dry at the ends and frizzy at the roots, I love La Bella Figura Elysian Fields Hair and Body Hyro-Essence, especially on second-day hair or just blow-dried hair. It gives lightweight definition and shine without weighing my fine hair down, and helps prevent frizz.
If you live in a humid climate, try one of these goodies to keep your hair from going berserk. Also, look on the bright side—skin ages better in humid climates thanks to the moisture in the air. Gotta be thankful for that, right?