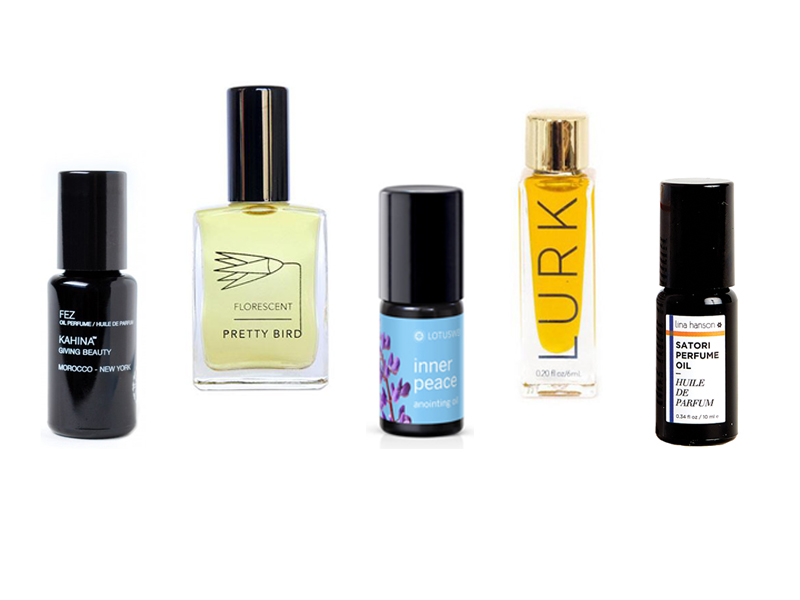 Do you feel it yet? That mental shift that begins to quietly take shape after Labor Day? Fall is coming. There already some leaves beginning to collect in my yard, and the sun is setting way earlier—no more long summer days. I love this part of the year because there's this quiet little lull where life feels calm and well-rested (ideally) after the summer, just before we go into productivity overdrive and the frenzied holiday season. And while I'm still savoring the summer bounty of tomatoes, corn, melons and more—I'm getting excited about all the hearty stews and mugs of cocoa to come.
One of the delights of a seasonal shift is the mood change that comes with it.  I don't celebrate the coming fall with pumpkin spice lattes or any of the jazz. I celebrate by breaking out my favorite perfumes for the season. We reach for scents with a little more body and depth in the fall.
Here are 5 fragrances for fall that go perfectly with the gorgeous cool weather…
Kahina Fez Perfume Oil — This spicy perfume oil will energize and de-frazzle all at once. The main notes I get right out of the bottle are grounding vetiver and sweet ylang ylang—a great combination that is lifted by a subtle dash of rose and orange blossom. As the perfume evolves, its spicy underside emerges to reveal notes of cumin and clove. Earthy and grounding, layer this beautiful scent over the Fez Body Oil for maximum pleasure.
Florescent Pretty Bird Eau de Parfum — Pretty Bird is like one of those perfect early fall days where the sun is out and the sky is a rich blue, but the leaves are rustling and beginning to fall all around you. The fragrance opens like the warm sun with its bright bergamot and bois de rose notes before settling into a rosy puff of heartwarming sandalwood and clove. A smidge of amber helps carry the fragrance through the day.
Lina Hanson Satori Perfume Oil — Delicious is the first word that comes to mind when I apply Satori. This warm and comforting gourmand perfume oil has a bright opening note thanks to the uplifting and citrusy Yuzu. Sweet vanilla and sultry sandalwood round out this fragrance while ginger adds a touch of intrigue without being overly spicy. Satori has elements that are both energizing and grounding—perfect for hectic fall days.
Lotus Wei Inner Peace Anointing Oil — If you're already feeling the pinch of busier schedules and longer to-do lists, nab the Inner Peace Anointing Oil before you get too stressed. The most herbal and aromatherapy oriented of my picks, Inner Peace combines lavender, cedar, vetiver and geranium to instantly diffuse the sense of being overwhelmed. Inner Peace is also infused with supportive flower essences that work to calm, making this perfume a practical and beautiful choice for fall.
LURK RSW 005 Perfume Oil — My number one favorite from LURK is just perfect for fall days. This perfume oil leans on the classic combination of fresh rose and deep sandalwood. The rose has some ripe cherry notes that really lift and enhance the sandalwood. This is a light rose, not the kind that's heavy or cloying, so the fragrance feels young and sophisticated all at once. Once I dab my wrists with RSW 005, it's impossible to keep away from my hungry nose.
Have you tried any of these fragrances? What do you love to wear for fall?